I'm old enough to remember Queer Eye for the Straight Guy when it first aired in 2003. It was a fun programme where five gay guys made over straight guys' wardrobes and homes. When I saw it had been rebooted for Netflix, I thought I'd give it a go because I LOVE a good makeover. Little did I know I would become obsessed, watch the entire series twice, tell all my friends and family to watch it and then write a blog post about it.
Here are five reasons you should watch it:
You will fall in love with all of them. From sweet Tan to larger than life Jonathan, each one of them is beyond lovable and will have you wishing you could be BFFs. They're not afraid to swear, scream, smell weird things and just be themselves which adds to the amazingly authentic vibe of the series. And if social media is anything to go by, they all love each other in real life too. Plus, they're all really good at what they do. Major props have to go to Bobby who renovates an entire home beautifully and gets about five minutes to talk through it all.
Tan is British AND Pakistani. Hello, key demographic over here! Tan, the style/clothing expert of the show hails from Britain and is of Pakistani/Muslim background. It's so refreshing to see a positive image of a Pakistani man on TV, you know, one that isn't a terrorist or taxi driver. But that's not the only reason I love Tan; he is beyond sweet and full of sage advice so you'll soon stop trying to figure where his accent is from and just wish you can hang out IRL.
YAAAS QUEEN. All the cool kids (i.e. ME) are using catchphrases from the show so you're going to want to keep up. Here are some of my favourites (mostly from Jonathan's vernacular):

Who gave you permission to be so cute?
Shamazing
Fingies (fingers)
Boobee (term of endearment)
Nakey

Have you ever wondered how many different types of bomber jackets there are in the world? Wonder no more. Karamo wears ALL of them. There's floral ones, shiny ones, logo ones and even black sequinned ones.
They're changing the world. OK, this may be hyperbole but there is where this reboot differs from the original incarnation. The new series tackles such issues as police violence, homophobia, religion, racism and so many subtle issues in between. And they do it with such grace that I'm so sure there'll be people out there who will change their world view just by watching this show.
So there's five reasons to watch the show, of course, there are one or two more but it would be crass to mention them. Ahem.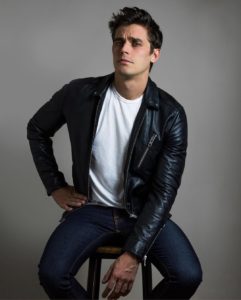 Have you seen the show and did you like it? Leave a comment!